St. Patrick's Day Traditions They Do in Ireland
Why is St. Patrick's Day celebrated and what are some of the traditions? St Patrick is the patron saint of Ireland and the day is a cultural and religious celebration held on 17 March, the day he died. Want to know where some of the traditions came from and how the Irish celebrate? Read on to learn more…
The Tradition of Wearing Green & Shamrocks
The tradition of wearing Shamrock to celebrate Saint Patrick dates back from the seventeenth or eighteenth century. The British invaders suppressed the Gaelic way of life and this resulted the Catholic religion in Ireland being forced underground. Strict laws were enforced which prevented the Catholic population from attending schools so 'hedge-schools' were operated in secret.
The teaching of religion was also forbidden and the Shamrock plant was used to illustrate the message of the Christian Holy Trinity, though that the Shamrock is not a blue plant as the color originally associated with Saint Patrick was blue!
Need help planning your dream vacation? Contact a Travel Team Agent today at 1-800-788-0829 for more information!
Saint Patrick's Day Parade
Saint Patrick's Day is unique because it is celebrated worldwide. After the 1845 to 1849 Irish Famine emigration soared with as many as a million native Irish leaving their homes after the famine to settle in places like Boston, New York, Newfoundland, Perth, Sydney and beyond. The US Census Bureau now reports that 34 Million US Citizens claim Irish descent. Most emigrants like to commemorate their heritage and this is believed to  be how the Saint Patrick's Day Parade came into being.
Rural Celebrations & Customs
In rural Ireland, St Patrick's Day is much more likely to be celebrated in traditional style, especially on the islands and in the Gaeltacht (Irish speaking) areas with traditional music, sean nós singing and dancing, horse racing and GAA matches.
Need help planning your dream vacation? Contact a Travel Team Agent today at 1-800-788-0829 for more information!
Turning buildings & Rivers Green?
Ok so this tradition didn't start in Ireland but now many countries follow suit. The use of the color green took a turn when in 1962 the city of Chicago decided to dye part of the Chicago River green. Since then the campaign to have just about every possible landmark turned green for the day  in recent years has included the Irish Parliament building, the Sydney Opera House, the Empire State Building, Niagara Falls and even the Pyramids of Giza in Egypt!
Have some Guinness (But don't dye it green while in Ireland)
Who doesn't love Guinness? But if you are in Ireland, the Irish pub-goers may look at you strange if you top a creamy pint of Guinness with a green Shamrock. NO!!!! It is estimated that as many as 13 Million pints of Guinness are consumed on Saint Patrick's Day, up from the usual 5.5 Million per day! The Irish don't actually drink green beer. That doesn't mean you can't have fun and turn your green if you really, really want, although you might want to stick to doing that in the states…
Dressing up
People all over the world who are of Irish origin use the opportunity of Saint Patrick's Day to dress up. Kids love to wear the big green, white and orange hats and receive sweets thrown to them by the operators of Parade floats.
Traditional St. Patrick's Day Dinner
Corned beef and cabbage is a very traditional Irish meal and it is often served for Saint Patrick's Day. Traditional Irish music in the background and a family gathering are other Irish Saint Patrick's Day traditions that have been going on for centuries.
Who was St. Patrick?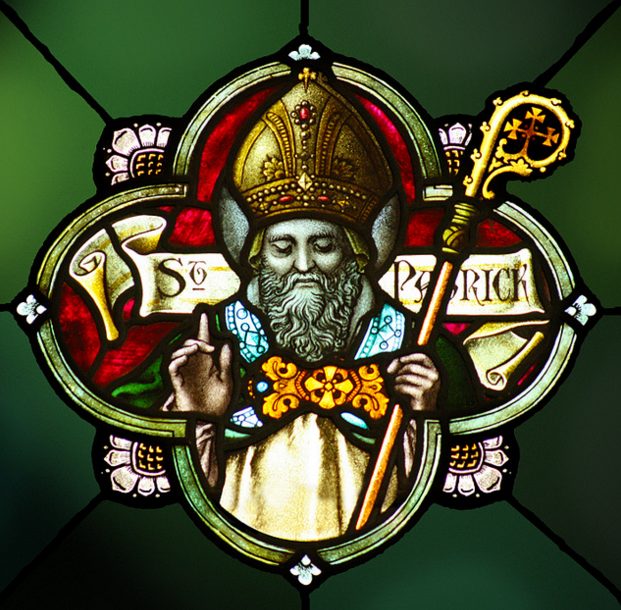 Image courtesy of Irelands hidden gems
St Patrick is the patron saint of Ireland, although he was not born in Ireland. Legend has it, that he was the son of an English nobleman and that he was captured and made to tend sheep in Ireland as a young boy. He was able to escape, but a voice kept telling him to come back to Ireland and convert the Irish people, who were pagans at the time to Christianity, which he did.
St Patrick used a three leaved shamrock to explain the Holy Trinity i.e. God the father, God the son and God the Holy Spirit. As far as the legend of driving out the snakes, much like other cultures around the world, snakes represent evil, so he supposedly drove them out of Ireland. That may or may not be true, but to this day Ireland has no snakes!
Ready to plan your dream vacation?
Contact a Travel Team Agent at 1-800-788-0829
Don't forget to check out our website and Like us on Facebook for the latest travel deals, news & tips!