WHAT'S INCLUDED
14 day/13 nights luxury cruise accommodation
Your own butler
All tipping & gratuities
Laundry concierge
36 meals
Complimentary beverages all day, everyday
Six dining venues, from casual to fine dining
Exclusive Scenic Tailormade GPS for self-guided touring & on board commentary
Balcony suites, including a Scenic Sun Lounge
Authentic local entertainment
Electronically assisted bicycles
Cruise Directors to guide & assist
Complimentary Wi-Fi internet
Spectacular South Of France Luxury River Cruise
That gives you the perfect opportunity to step out and explore whatever incredible destination your 5-star floating hotel happens to be docked in. You'll find yourself right there, in the centre of the action, in one of Europe's most beautiful regions, with nightly opportunities to stretch your legs and explore. A gourmet splurge in Lyon, the food capital of France, or an evening of fabulous entertainment in Tarascon – the possibilities are endless, and the choice is yours. Combine that with highlights such as immersing yourself in the acclaimed Beaujolais wine region, and a visit to the beautiful Camargue, and the temptations of succumbing to the South of France become even more alluring.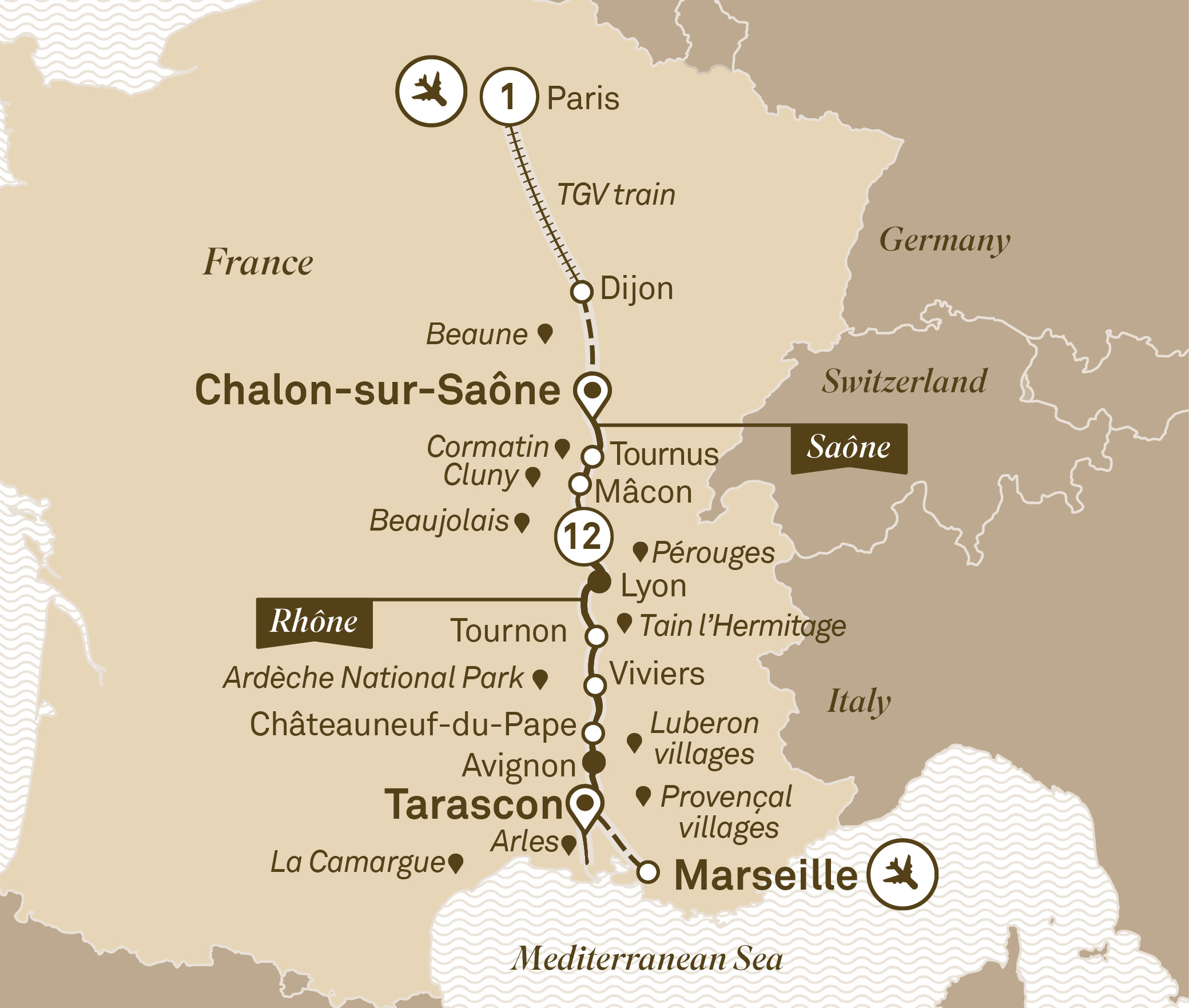 Experience Luxury River Cruising at it's finest! Contact a Travel Team Agent at 1-800-788-0829 today for more information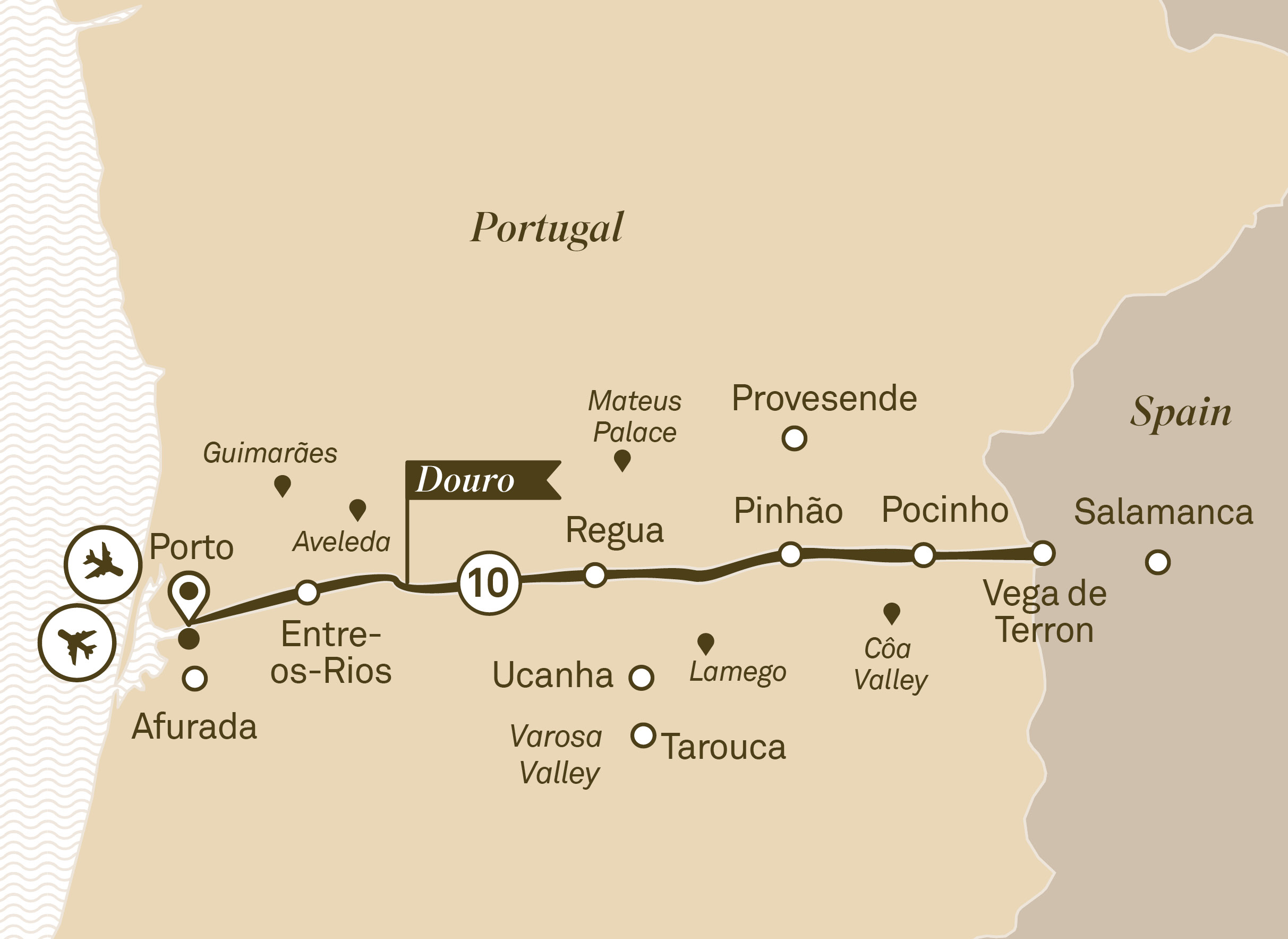 *Itinerary may be in reverse depending on departure dates
Day 1: Highlights City Of Lights
Celebrate the start of your France holiday at this evening's welcome reception and relax at one of our luxurious city central hotels. A world of wonder awaits you.
Day 2: Chalon-sur-Saône   Highlights: Welcome reception
Traverse the Île de France countryside aboard the TGV train to Dijon. Known worldwide for its famous mustard exports you'll enjoy an orientation tour and time at leisure before transferring to Chalon-sur-Saône. Your friendly crew await to welcome you on board your luxurious Scenic Space-Ship for your journey through France's iconic south.
Meals included: Breakfast, Dinner
Day 3: Chalon-sur-Saône > Tournus   Highlights: Burgundy region
Freechoice: This morning explore Beaune, including a visit to Les Hospices de Beaune. Alternatively, visit the estate of Château de Savigny-les-Beaune to see the impressive collection of motorcycles, race cars, and fighter planes.
Meals included: Breakfast, Lunch, Dinner
Day 4: Tournus > Mâcon    Highlights: Riverside cycling
Freechoice: Experience the magnificent Château de Cormatin, boasting beautiful gardens and water features. Alternatively, join the intelligent hounds and their owners in a nearby quaint village to locate and sample French truffles – a gastronomic delicacy. Enjoy leisurely cruising to Mâcon this afternoon, or opt for a class in French cuisine in Scenic Culinaire on board. Alternatively, cycle from Tournus to Mâcon and meet the ship there.
Meals included: Breakfast, Lunch, Dinner
Day 5: Mâcon    Highlights: Beaujolais wine region
You're sure to love Mâcon. Be fascinated by its history and delighted by the surrounding picturesque farming region acclaimed for its five wine appellations and gastronomy.
Freechoice
Retrace the traditional life of the region on your visit to the Bresse Museum, or enjoy wine tasting in the celebrated Beaujolais region. Alternatively, visit Cluny, a village in Burgundy that was constructed around the great Benedictine Abbey.
Meals included: Breakfast, Lunch, Dinner
Day 6: Lyon     Highlights: Enrich Scenic Rouge cabaret
Awake today in Lyon, the gastronomic heart of France.
Lyon's Botanical Gardens and Zoo are perfect for a leisurely bike ride this afternoon.  Or you may choose to visit Scenic Culinaire and pick up a trick or two to add to your culinary prowess.
Freechoice
Discover Lyon's historic significance by traversing its hidden traboules – secret passageways that date back to the 4th century, and visit Notre Dame Basilica, offering a fabulous vantage point for views across Lyon. Alternatively, walk the cobblestone paths of yesteryear in the medieval hilltop town of Pérouges. Or, if you wish, visit the exclusive culinary school of Paul Bocuse and perfect the art of French cuisine before sampling some of the delicious fare (available on selected dates, will be replaced with In Cuisine Lyon when not available, enquire for details).
Enrich
Experience the French extravaganza that is the can-can amidst other performances when you are treated to the exclusive gala spectacular, Scenic Rouge, under the big-top onshore this evening in Lyon.
Meals included: Breakfast, Lunch, Dinner
Day 7: Tournon
Highlights: Sundowners at Tournon Castle
Cruising from Lyon you'll have the opportunity to soak in the picturesque riverside panoramas as you glide effortlessly toward Tournon. On arrival in Tournon enjoy a fun lecture on the French paradox and etiquette.
Sundowners
Overlooking the Rhône, Tournon Castle is a must-see for visitors, both for its historic interest and its breathtaking outlook. Enjoy an afternoon aperitif on the terrace of the castle accompanied by local musicians. You'll find it a great soundtrack to a truly awe-inspiring backdrop.
Meals included: Breakfast, Lunch, Dinner
Day 8:  Tournon > Viviers     Highlights: Chocolates and wine
Scenic cruising to Viviers this afternoon.
Freechoice
Enjoy a unique wine tasting in the wine cave of Tournon Castle, or join a guided walk of Tain l'Hermitage including a tasting at Valrhona Chocolates. You could also enjoy a group bike ride along the Rhône to neighbouring villages, or hike Heritage Hill for a tasting of the delicious varietals of the region amidst the vines.
Meals included: Breakfast, Lunch, Dinner
Day 9: Viviers > Châteauneuf-du-Pape Highlights: Ardèche National Park
Enjoy a walking tour of Viviers including an organ recital in the town's cathedral.
Freechoice
Explore the Ardèche National Park and visit the aromatic Lavender Museum. If you're feeling adventurous, you can kayak through one of Europe's largest natural canyons, or drop into the beautiful provincial town of Grignan (Kayaking in the Ardeche canyon is a seasonal option, operating on select departures, enquire for details).
Meals included: Breakfast, Lunch, Dinner
Day 10:  Châteauneuf-du-Pape > Avignon
Highlights: Côtes du Rhône
Enjoy picturesque cruising to Avignon this afternoon. Then take a walking tour that includes a visit to the city's architectural jewel, the Pope's Palace.
Freechoice
Join an exclusive cooking class in Scenic Culinaire on board, or sample the celebrated wines of Châteauneuf-du-Pape at a charming Côtes du Rhône vineyard.
Meals included: Breakfast, Lunch, Dinner
Day 11:  Avignon
Highlights: Enrich dinner at Pope's Palace
Explore Avignon at leisure this afternoon.
Freechoice
Shop with a Chef at a local food market and cook up a storm in Scenic Culinaire with your fresh ingredients. Alternatively, drop in to the villages of the Luberon region including Gordes and l'Isle-sur-la-Sorgue, or take an excursion to Uzès and Pont du Gard.
Enrich
Be treated to a truly unforgettable experience at the prestigious Pope's Palace of Avignon, among the most visited sites in France. After the doors close to the general public, you'll be ushered in for an exclusive gala dinner and classical concert in one of the grandiose rooms.
Meals included: Breakfast, Lunch, Dinner
Day 12 La Camargue   Highlights: La Camargue National Park
Choices today include the spectacular La Camargue National Park.
This afternoon, relax on the Sun Deck while cruising roundtrip from Tarascon towards the Mediterranean Sea. Tonight, a Camargue gypsy band performs live for your listening pleasure on board.
Freechoice
Enhance your French cooking skills by joining a lesson in Scenic Culinaire. Or take in the wild beauty of Saintes-Maries-de-la-Mer and visit the 60 hectare Parc Ornithologique whilst there. You can also choose to visit the fortified Mediterranean village of Aigues-Mortes.
Meals included: Breakfast, Lunch, Dinner
Day 13 Tarascon
Highlights: Villages of Provence
The riverside town of Tarascon exudes a charming medieval character.
Freechoice
Explore the artistic heritage of Arles, and see the striking Arles Arena, or stop in at the pretty hilltop village of Les Baux before touring a charming family-run olive farm to sample their delicious products in a delightful setting. Alternatively, pay a visit to Saint-Rémy and Saint-Paul de Mausole Monastery where Van Gogh was held for a year.
Meals included: Breakfast, Lunch, Dinner
Day 14  Tarascon > Marseille Airport   Highlights: Farewell
All good things end eventually and after enjoying a great breakfast, disembark your Scenic Space-Ship and transfer to Marseille or Nice Airport. Please book your flights to depart between 11am and 4pm if flying out of Marseille and after 1pm if flying out of Nice.
Meals included: Breakfast
---
Pricing & Departures
| | |
| --- | --- |
| Apr 12 – 23, 2020 | $7,445 |
| May 8 – 17; May 16 – 27, 2020 | $8,045 |
| Jun 9 – 20; Jun 19 – 30; Jun 29 – Jul 10, 2020 | $8,045 |
| Jul 9 -20; Jul 19 – 30, 2020 | $8,095 |
| Aug 8 – 19; Aug 18 – 29, 2020 | $7,645 |
| Sep 11 – 22; Sep 21 – Oct 2 2020 | $7,845 |
| Oct 1 – 12; Oct 11 – 22, 2020 | $7,545 |
Additional travel dates are available, call a Travel Team Agent at 1-800-788-0829 for details.
Or, call 1.800.788.0829 to speak with one of our travel experts.
Notes:
Cruise only package; Add airfare – ask a travel team agent for details
Prices based on availability & may be subject to change
Prices in US dollars unless otherwise noted
We have limited space on this package and it is subject to availability and prior sale
All package prices are per person based on double occupancy unless otherwise noted
Prices reflect cash discount
Due to constantly changing policies to baggage restrictions, please check with your airline directly for latest updates and restrictions
Information, including prices are subject to change without notice
Restrictions and change and/or cancel penalties apply
UBI-600-307-872-WA