Exploring New Zealand
WHAT'S INCLUDED
19 days/18 nights accommodations
26 meals
Daily touring as per itinerary in luxury motorcoach
Journey to the subtropical Bay of Islands and the steaming geothermal vents of Rotorua. Venture to Mt. Cook in the Southern Alps and scenic Queenstown on the shores of Lake Wakatipu. Enjoy city tours of Auckland, Christchurch, Wellington and Dunedin. Spend two nights discovering the sun-soaked Bay of Islands. Explore the wineries of Marlborough. Stand in awe of the giant Kauri tree. Savor a leisurely 3-night stay in Queenstown, one of New Zealand's prettiest towns. Cruise Milford Sound in dramatic Fiordland. Explore the beautiful 19th-century gold rush settlement of Arrowtown. Stay in Dunedin, a little slice of Scotland in the South Pacific. Overnight at the foot of massive Mt. Cook. Dine in a restored Christchurch mansion. Immerse yourself in the Maori culture. Discover the many treasures of New Zealand.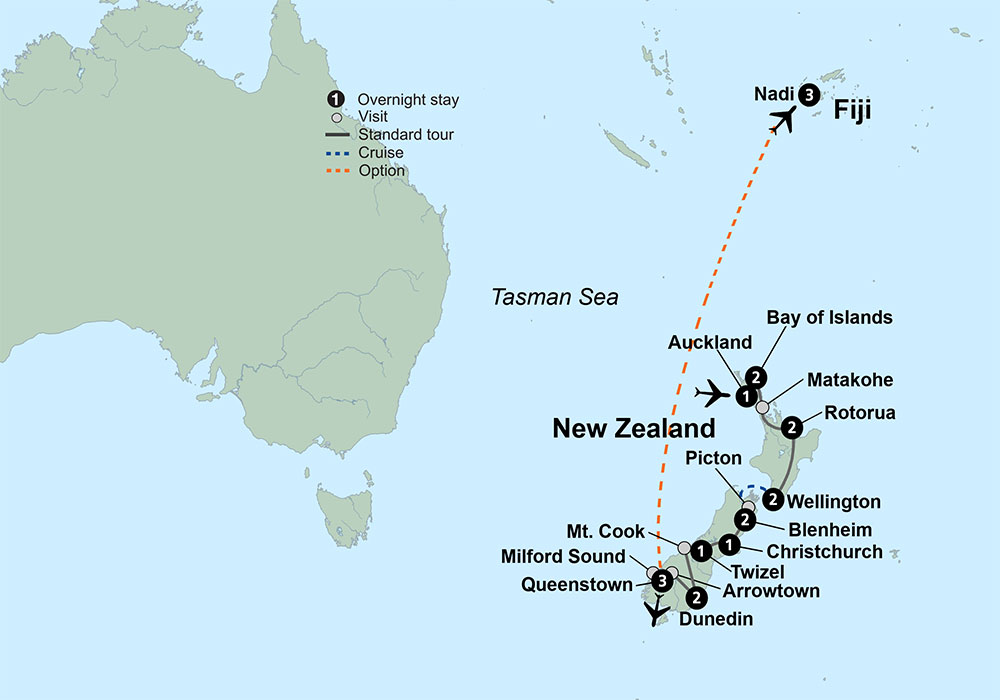 ---
Days 1 – 2
Depart from Home
Cross the International Dateline and begin the adventure of a lifetime by skipping a day ahead.
Day 3
Dinner  High  62°  Low  52°  3″  Rydges Auckland
Auckland, New Zealand – Tour Begins
Your tour opens in Auckland, the "City of Sails," consistently rated one of the best places in the world to live. Auckland's Polynesian population instills into its chic atmosphere the vibrant feel of the Pacific Islands. This evening, join your fellow travelers for a welcome dinner.
Day 4
Breakfast & Dinner  High  64°  Low  53°  3″  Scenic Hotel Bay Of Islands
Auckland – Bay of Islands
Come to know the best of Auckland during a panoramic city tour featuring the America's Cup Village, the War Memorial, bustling Queen Street, and the Auckland Harbour Bridge. Next, depart Auckland and travel north to the Bay of Islands, your home for the next two nights. This sun-soaked region boasts more than 144 islands and warm waters with abundant marine life. Visit the Waitangi Treaty House where Maori and British leaders signed the 1840 treaty establishing New Zealand as a nation. Tonight, experience an authentic Hangi dinner celebration where you learn about the warm-hearted Maoris and their lives before European colonists arrived in Aotearoa (New Zealand) and since.
Day 5
Breakfast  High  64°  Low  53°  3″  Scenic Hotel Bay Of Islands
Bay of Islands
Begin the day with a cruise that features the bay's famous Hole in the Rock and a stop off at picturesque Urupukapuka Island. Relax on the beach or walk to a higher elevation to enjoy 360° views. Look out at the Cape Brett Lighthouse which stands nearly 500 feet above sea level at the edge of the Cape Brett Peninsula. The rest of the day is yours to independently explore Paihia – the quaint town known as "the jewel of the Bay of Islands."
Day 6
Breakfast & Dinner  High  63°  Low  43°  5″  Millennium Hotel Rotorua
Bay of Islands – Rotorua
Leave the sparkling waters of the Bay of Islands behind and head to Matakohe in the heartland of the North Island. Make a stop at the Kauri Museum where you will come to know the stories surrounding the giant kauri tree that can live for 2,000 years. Discover how the early settlers used this abundant tree to build a life for themselves. Later, continue on to the town of Rotorua, known for geothermal activity and Maori culture.
Day 7
Breakfast  High  63°  Low  43°  5″  Millennium Hotel Rotorua
Rotorua
Today, find yourself amid the dramatic geothermal landscape of Rotorua. With over one-third of its population boasting Maori roots, this city is known as the Maori capital of New Zealand. Visit Te Puia, New Zealand's premier Maori cultural and geothermal experience. The National Carving School and National Weaving School are located here, passing on age-old customs by teaching the tribal youth these traditional skills. Enjoy the chance to view the Kiwi bird and learn what is being done in an effort to remove this marvelous creature from the endangered species list.
Day 8
Breakfast & Dinner  High  57°  Low  49°  4″  Novotel Wellington
Rotorua – Wellington
Travel through the rolling countryside of the North Island. The rural vistas and the rugged Rimutaka Range slowly give way to Wellington, New Zealand's capital city.
Day 9
Breakfast  High  57°  Low  49°  4″  Novotel Wellington
Wellington
This morning we embark on a tour of Wellington. See the Beehive, New Zealand's Parliament; historic St. Paul's Church; and the Old Government Building – the largest wooden building in the Southern Hemisphere. Following the tour, visit the Te Papa Tongawera Museum, a fascinating center dedicated to art, history and the Maori culture. The remainder of your day is at leisure.
Day 10
Breakfast & Dinner  Scenic Hotel Marlborough
Wellington – Picton – Blenheim, Marlborough
Board a ferry and sail across Cook Strait. This has been called "the most beautiful ferry ride in the world." Arrive in Picton on the South Island where you will have free time for lunch. Next, drive along the coast to the picturesque village of Havelock where you will have leisure time to enjoy the quaint colonial buildings in a town that bills itself as the "green-lipped mussel capital of the world." Upon arrival in Blenheim, relax at your hotel before heading to a local winery where you will see the vineyard, enjoy a tasting, and dine at the cellar door bistro.
Day 11
Breakfast  Scenic Hotel Marlborough
Blenheim
The morning is yours to enjoy the town of Blenheim. Next, we continue our introduction to the world-famous wine region of Marlborough with a visit to another of the family-owned wineries in the region for a tasting and tour. The area is famous for its Chardonnays, Pinot Noirs, and late harvest Riesling wines, all of which you will taste today.
Day 12
Breakfast & Dinner  High  61°  Low  44°  2″  Pavilions Hotel
Blenheim – Christchurch
This morning depart Blenheim and travel to the historic city of Christchurch. Devastated by an earthquake in early 2011, see firsthand how the "Garden City" is recreating itself during a sightseeing tour that highlights the city's magnificent gardens and elegant park district. Tonight, enjoy dinner in the region's earliest home, Riccarton House.
Day 13
Breakfast & Dinner  High  57°  Low  45°  8″  The Hermitage
Christchurch – Mt. Cook Region
The Maori word for Mt. Cook is Aoraki, which means "cloud piercer." Journey through New Zealand's unspoiled wilderness and arrive at Mt. Cook National Park, where permanent ice fields and glaciers blanket the ragged peaks. This is where famed New Zealand mountaineer Sir Edmund Hillary honed his skills before conquering Everest. You may choose to take a nature walk, enjoy an optional glacier flightseeing tour (weather permitting) or simply meditate on the beauty of the Southern Alps.
Day 14
Breakfast  High  59°  Low  42°  3″  Scenic Hotel Southern Cross
Mt. Cook – Dunedin
Travel to Dunedin, on the southeast coast of New Zealand. One of the earliest European settlements on the islands, Dunedin holds proudly to its Scottish heritage and traditions.
Day 15
Breakfast  High  59°  Low  42°  3″  Scenic Hotel Southern Cross
Dunedin
This morning's panoramic drive reveals Larnach Castle as well as Baldwin Street, the world's steepest public road. Later, visit the Royal Albatross Centre, the only mainland breeding location in the world for these magnificent birds. Their epic wingspan can reach nearly 10 feet!
Day 16
Breakfast  High  60°  Low  41°  3″  Novotel Queenstown Lakeside
Dunedin – Queenstown
Set off today for one of the world's prettiest towns. Before arriving in Queenstown, stop in the beautiful 19th century gold rush settlement of Arrowtown, and take some time to explore its quaint, historic streets.
Day 17
Breakfast & Lunch  High  60°  Low  41°  3″  Novotel Queenstown Lakeside
Queenstown – Milford Sound – Queenstown
En route to Milford Sound, enjoy the rugged grandeur of the Hollyford Valley. You'll travel through ancient beech forest via the Homer Tunnel. During a cruise of the breathtakingly beautiful Milford Sound you will see why this fjord is one of the most visited sights on the South Island. With rock faces that rise nearly 4,000 feet on either side, the scenery will take your breath away.
Day 18
Breakfast, Lunch & Dinner  High  60°  Low  41°  3″  Novotel Queenstown Lakeside
Queenstown
Journey into the heart of New Zealand's high country to visit an authentic, family-owned merino sheep farm. En route, enjoy the spectacular scenery of the Remarkables, Cecil Peak, Bob's Cove and Mt. Earnslaw as you cruise across spectacular Lake Wakatipu to Mt. Nicholas High Country Farm. During your exclusive, behind-the-scenes visit, follow the journey of merino wool from mustering sheep through the creation of modern wool garments. Enjoy a freshly prepared farmer's lunch before sailing back to Queenstown. Later this afternoon, it's your choice! You may go bird watching at the Kiwi Birdlife Park -OR- take a gondola to the top of Bob's Peak for stunning panoramic views of the region. Gather for a farewell dinner overlooking Lake Wakatipu and the Remarkable Mountains.
Day 19
Breakfast
Queenstown – Tour Ends
Your adventure comes to a close today, leaving you with many pleasant memories of a wonderful trip.
Post Night
Novotel Queenstown Lakeside
Located in one of the most picturesque settings in the world, Novotel Lakeside is in the very heart of Queenstown and nestled beside the beautiful and tranquil lake on which Queenstown sits. This property is only a minute's walk from the center of Queenstown shopping, restaurants, nightlife and other activities. Novotel Lakeside is a fresh and modern hotel which offers guests superb and uninterrupted views of the lake, mountains and adjoining gardens.
---
Pricing & Departures
| | |
| --- | --- |
| Travel dates | from |
| Feb 22 – Mar 11, 2020 | $5,799 |
| Apr 18 – May 6, 2020 | $5,799 |
| Oct 14 – Nov 4, 2020 | $5,799 |
| Nov 4 – 25, 2020 | $5,999 |
| Jan 13 – Feb 3, 2021 | $5,999 |
| Jan 27 – Feb 17, 2021 | $5,999 |
| Feb 3 – 24, 2021 | $5,999 |
| Feb 24 – Mar 17, 2021 | $5,999 |
| Mar 24 – Apr 14 , 2021 | $5,799 |
| Apr 14 – May 5, 2021 | $5,499 |
*This tour can be modified if booked on an independent basis w/daily departures!
Additional departure dates available; add additional cities to your trip, ask your Travel Team Agent for details.
Or, call 1.800.788.0829 to speak with one of our travel experts.
Notes:
Land only package, add airfare by speaking to a Travel Team Agent
Prices in US dollars unless otherwise noted
We have limited space on this package and it is subject to availability and prior sale
All package prices are per person based on double occupancy unless otherwise noted
Prices reflect cash discount
Due to constantly changing policies to baggage restrictions, please check with your airline directly for latest updates and restrictions
Information, including prices are subject to change without notice
Restrictions and change and/or cancel penalties apply
UBI-600-307-872-WA